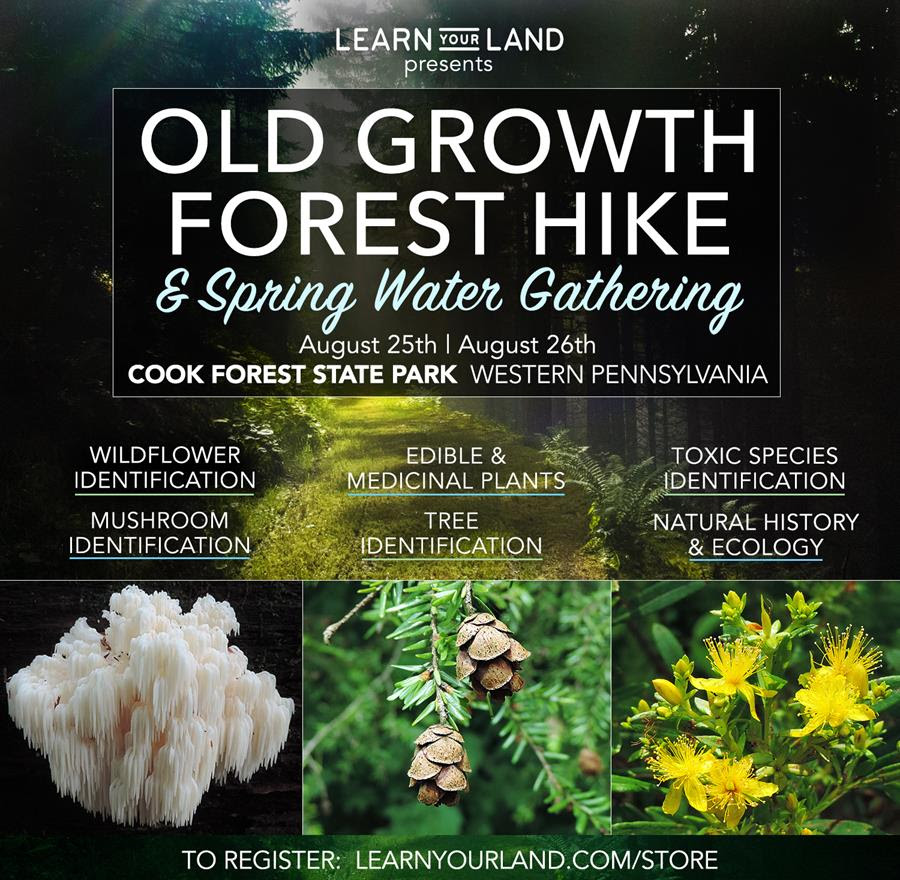 Greetings!
I am excited to announce that I will be leading the Old Growth Forest Hike & Spring Water Gathering during the weekend of August 25th and 26th at Cook Forest State Park.  And of course, I'd love for you to join us!
If you've never experienced the magnificence of Cook Forest, it truly is one of the most remarkable natural areas in Pennsylvania.  This particular ecosystem encompasses one of the last remaining old growth forests in the entire eastern United States, currently hosting 11 old growth areas that total over 2,300 acres.  One of these areas within the park, the Forest Cathedral, contains arguably the finest concentration of old growth trees in the northeastern United States.  This special area is home to dozens of old growth eastern white pine and hemlock trees, many over 300 years old and towering above 140 feet in height!
In this event, we will hike and explore the Forest Cathedral surrounded by Pennsylvania's tallest and oldest trees while discussing:
Edible and medicinal plants
Edible and medicinal mushrooms
Tree identification, along with edible and medicinal uses
Medicine-making using wild plants and mushrooms
Natural history of the area
…and lots more!
For the second part of the event, we will visit a pristine spring to gather wild Pennsylvania water straight from the source.  As you may or may not know, I've been harvesting wild water from springs all over the country as part of my personal health strategy for several years, championing the idea that nature's wild water can provide the perfect alternative to other conventional hydration strategies (tap water, bottled water, commercial filters, etc.).
During this second part of the event, we will discuss the benefits of drinking wild spring water, the importance of developing your own personalized water strategy, and locations of other fantastic springs.  You are encouraged to bring your own collection vessels so that you can harvest fresh, clean spring water following the event.
Interested?  Here are more details:
What: Old Growth Forest Hike & Spring Water Gathering
When: Saturday, August 25th OR Sunday, August 26th
Where: Cook Forest State Park, Western Pennsylvania
Time: 12:00 PM — 5:00 PM
The program is geared toward adults and will entail moderate hiking (about 1.5 miles).
Please note that in order to maximize your learning experience, space is limited and registration with payment in advance is required to secure your spot.
To purchase your ticket, and to learn more about the outing, please visit the following link and choose the appropriate session:
Old Growth Forest Hike & Spring Water Gathering
I'd love to see you there!
—Adam Haritan